8 Life Lessons We Learned From A Supermodel
Linda Evangelista turns a cool 49 on Saturday, and though she's not walking runways anymore, the fashion world still feels her reverberations. After all, we're talking about the woman who famously joked that she didn't get out of bed for less than $10,000 a day, the woman who changed her hair color seventeen times in five years, the woman whose photographic charisma, said photographer Steven Meisel, was like "champagne corks popping." The era of super-supermodels has passed, but we still want to be just a little bit more like Linda.


1. Say something quippy.

Evangelista once said of her fellow supermodel friends, "We don't vogue, we are Vogue." And about that $10,000 comment, she later quipped, "I feel like those words are going to be engraved on my tombstone." Love or hate her quips, it's rare that a model is remembered for quotes as well as photos.


2. It's all about the eyebrows.

A good part of Evangelista's mystery comes from those perpetually raised eyebrows. They give her an air of sultry inquisitiveness—like she's not quite sure you're worthy.


3. There's no such thing as too many hair changes.


Don't beat yourself up for wanting to go lavender, then silver, then back to black. Evangelista has done red and blonde and brunette and short and long and bangs and wavy and possibly everything else under the sun.


4. Befriend women in the same career field.


The Evangelista-Turlington-Campbell friendship, also known as The Trinity, was one of the most adorable and iconic ever. Sure, they were all in a very competitive field, but they worked and played and were photographed together, a perfect example of three being more powerful than one (I know, that's not a saying, but you know what I mean).


5. It never hurts to look a little bit Italian.


Evangelista was from Canada, but many of her most iconic images have a sort of Sophia Loren vibe about them: dark hair, full pout, eyeliner flicked up at the end, lots of cleavage.


6. Wear big earrings.


Short hair, mega earrings. It was the Linda way.


7. Embrace texture.


Did I say texture? I meant massive volume. Evangelista's hair was often sky-high, and she never looked better.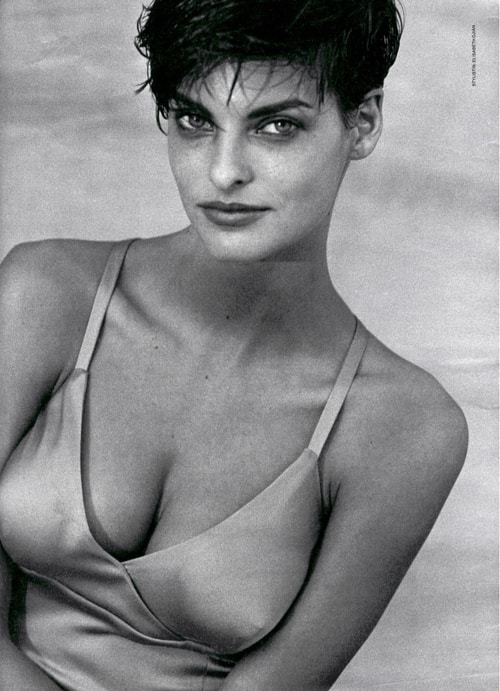 8. Keep your clothes simple and striking.


It's hard to pinpoint Evangelista's personal style—she's famous for being a chameleon—but some of her most striking images were taken in white shirts or black dresses, always with a healthy helping of that raised-eyebrow, flicked-eyeliner, 90s-supermodel allure.
The latest fashion and trends in your inbox daily.