How to Dress Like Karlie Kloss At The Gym
OK, before you roll your eyes, just know that it's totally possible to look like supermodel Karlie Kloss at the gym. The super cute supermodel has teamed up with Nike to showcase their fall/winter collection. And boy, does she make us want to head to the gym, not just because of her killer ballerina bod, but because of the cute athletic threads she's wearing on top of it!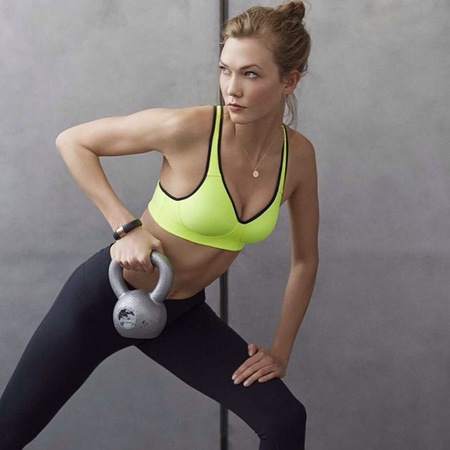 The collab may seem random to you, but it makes total sense for Kloss. She's a self-proclaimed athlete — in a recent interview with Vogue UK, she revealed that she even prefers to call herself one over the title 'model.' "I treat myself more as an athlete than just a model. I love to challenge myself physically and mentally." Nike must've gotten the memo, prompting them to ask Kloss to star in their latest Nike concept shoot.
And FYI, Kloss didn't just throw on a sports bra and shorts and pretend like she was lifting a kettle bell. The girl totally worked it out, too. For the shoot, Kloss spent the day working out with Nike Training Club's master trainer Traci Copeland. She told NY Mag, "It was the best day at the office I could have hoped for."
One of the main reasons why Kloss is such a huge fan of Nike's latest collection is because of its versatility. 'Athleisure' wear has grown in popularity as of late, and no one appreciates the trend more than Kloss herself. "I am constantly running around New York City and on the go. I don't always have time to change after a workout, so I think it's great to have workoutwear that is functional but also chic."
Want to look like Karlie Kloss the next time you're huffing and puffing on the treadmill? Shop the collection below.
The latest fashion and trends in your inbox daily.