How To Layer Your Necklaces. All Of Them.
Whoever thought of layering necklaces should win some type of award or be knighted by the Queen. We love it. Jewelry is already one of the best parts of getting dressed - the icing on an already haute cake - but a good necklace pairing is a sure path to an unforgettable ensemble and lots of compliments.
Whether you're working with delicate chains bearing antique charms or a huge turquoise beaded rope, layering up is one of the easiest ways to turn a simple look into a neck party. Here are a few steps you can take to pick the perfect pairing.
Choose a Theme
You want your necklaces to vary, but some common thread will keep the look coherent without going down the matchy-matchy road. Themes could include a specific mood or a current trend depending on the feel of your ensemble.
Ladylike Charm
Goth Girl
Tribal
Pick a Style
What type of clothing you are wearing will inform this decision. Plunging necklines are perfect for pendants and long chains, while a crew neck or short v-neck top would pair nicely with short chains.
Long Pendants
Short Chains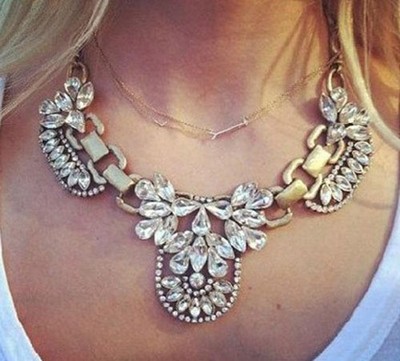 Statement Pieces
Pick a Color Story
Much like selecting an ensemble, you want to identify your color palette. Though the necklaces do not have to all be the same color, you want everything to compliment.
Black and Gold
Purples and Blues
Diamonds
Play with the Arrangement
Some say you should always keep the chunkiest piece at the bottom and space each piece about a quarter of an inch, but we say there are no rules, so play around until you like what you see.
Tip: Hate when a necklace is to short? Buy a set of plain gold and silver necklace extenders and a pair of pliers. Now you can change the length whenever you feel like it.
Chunky On Top
Layered Like Crazy
Chunky on Chunky
The latest fashion and trends in your inbox daily.